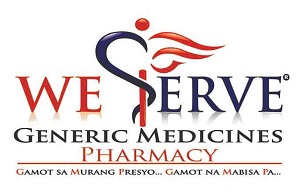 "We Serve Generic Medicines Pharmacy" is a flagship trade name of Pharmacy Detailing and Drugstore Management, Inc., duly approved by the Securities and Exchange Commission (SEC) and Bureau of Food and Drug (BFAD), started its franchising operations in the Philippines on October 13, 2010.
Currently, PDDMi offers its franchising business on a nationwide scale and now serving its branches with a vast line of high-quality and affordable Generic Medicines, both adult and pediatric preparations.  Also, PDDMi is coming into the market of various premium food supplements and medical devices. Amongst the product classifications promoted are anti-hypertensives, cholesterol-lowering agents, for pain and fever, cough and cold preparation, anti-diabetic, anti-asthma, anti-infectives, anti-allergies, gastro-intestinal medicines, multivitamins, food supplements, topical ointments, lotions and creams, etc.
PDDMi as the franchisor of "We Serve Generic Medicines Pharmacy" has a Pharmacy Management Team, with a blended mixture of specialized experiences in various related fields for more than twenty (20) years now, such as:
Pharmaceutical Sales and Marketing
Pharmacy Franchising
Pharmacy Detailing and Management
Pharmaceutical Distribution
Vision:
To provide quality and affordable medicines to the people, through 500 to 1000 Franchise Branches Nationwide in Three (3) Years.
How to Franchise We Serve Generic Medicines Pharmacy:
Franchise Package : Php349,000.00
Inclusive of:
Drugstore Site Assessment
Guidance in Securing Business Permits
Hiring & Selection Assistance
Continuous Pharmacy Training Program
Consistent Management Consultancy & Assistance
Guaranteed Supply Chain of Products
Well-monitored Delivery of Goods
Competitive Pricing Structure for All Products
Customized Setting of Sales Objectives
Marketing Support
Product Development
Strategic Territorial Configuration
Periodic Store Evaluations
Computerized Point-Of-Sales (POS) Program with Payment Term Offer that Includes both Hardware & Software
40% Profit Margin
10 Years of Contract Duration
No Renewal Fees upon Expiration of Contract
Referral Fees & Rewards
Personalized Service
Contact Details of We Serve Generic Medicines Pharmacy:
MAIN OFFICE
2F Verde Oro East Plaza
Manila East Road, Sitio Pantayin,
Brgy. Dolores, Taytay, Rizal, Philippines
Mobile: (0917)896-5850 / 467-5593
Email: weservegmp@yahoo.com
MAIN PHARMACY BRANCH
#773 A. Bonifacio Avenue,
Barangay San Juan, Cainta, Rizal
Tel: (632) 284-5828 / (02) 467-5593
Telefax: (632) 284-0850
Mobile: (0922)899-4150
Email: info@weservegenerics.com
Website: http://www.weservegenerics.com (This link will open on a new window)