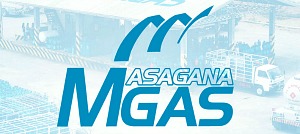 Masagana Gas, a brand name of Liquefied Petroleum Gas (LPG) developed by MASAGANA GAS CORPORATION (MGC) which was incorporated on December 16, 1993.  The company recognized by the Department of Energy as an independent LPG refiller and marketer with a proven track record of efficiently supplying LPG requirements for households, commercial and industrial needs.  As such, it is their commitment to provide utmost services, offering not only quality products and services, but as well as business growth, productivity and profitability.
For More than 10 years, Masagana Gas Corporation has been successfully developing a network of highly satisfied & loyal customers. Presently, they are serving more than Eight Hundred Fifty (850) retail outlets, more than Five Hundred (500) commercial establishments & Ten (10) big industrial companies for LPG bulk consumption.  Their experience ranges from the refilling of LPG cylinders to Marketing & installation of LPG tank & pipeline.  The Company also provides free consultation service for designers, architects, developers, managing agents and individuals on their existing LPG installation and also new installation. They also provide repairs and maintenance services on installed by other firms.
MISSION:
MASAGANA GAS CORPORATION is a professional, progressive, and growth oriented company in the Liquefied Petroleum Gas Industry, committed to contribute aggressively to its progress by making people our main priority and providing efficient service together with quality products that ensure our customers and employee satisfaction, thus providing the company with the best financial eturns and corporate image.
VISION:
To be among the leading provider of Liquefied Petroleum Gas by delivering a personalized standard of service that pertains to a level of excellence.
M-GAS / LPG DEALERSHIP
MINI LPG CYLINDER REFILLING
Lot Area Requirement – 1,500 sqm.
Within Luzon Area Only
Contact Details of Masagana Gas:
MASAGANA GAS CORPORATION
9775 Kamagong St., San Antonio Village,
Makati City, Philippines
Tel:  (+632) 475-5911, (+632) 897-4963, (+632) 890-1382
Telefax: (+632) 895-1282
Mobile: (+63919)999-6427
Email: dealer@masaganagas.com.ph, sales@masaganagas.com.ph
Website: http://www.masaganagas.com.ph (This link will open on a new window)
PLANT SITE
Governors Drive
Brgy Lapidario, Trece Martirez City
Cavite, Philippines
Tel: (046) 419-0198, (046) 419-2770
Fax: (046) 419-0197
Mobile: (0922) 890-3774 (Look for Richard Prijoles)
Email: sales.tmc@masaganagas.com.