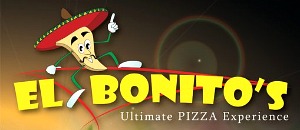 El Bonito's Ultimate Pizza Experience, a home-grown business started by a youg couple in June of 2002. The name "El Bonito" was coined from their first-born son who was just eight months old at that time.
In the early years of oys operations, El Bonito's marketed and solf their pizza by joining bazaars, tiangges and school events in Manila. After several months, the company was encouraged to put-up pizza carts inside school and company canteens because of the warm and positive feedback on the taste, size and flexibility of their pizza.
To date, the company has various pizza cart outlets in schools and company canteens in Metro Manila. In mid-2010, the company opened its first mall pizza cart at the New Divisoria Mall in Binondo, Manila.
How to Franchise El Bonito's Pizza:
Franchise Fee :  Php300,000.00
El Bonito's Pizza Inclusive of:
Use of trade name and proprietary marks
Site approval
Training for the Franchisee and Staff
Procurement program
Marketing assistance
Opening assistance
Operations manual
Research and development
Cart
Pizza oven
Menu board
Other utensils
Franchise Term :  Three (3) years
Royalty :  None
Space Requirement :  minimum of 4 square meters
Steps to El Bonito's Pizza Franchise
1. Send us your Confidential Questionnaire together with your Letter of Intent to:
RK FRANCHISE CONSULTANCY INC.
G/F Minnesota Mansion, 267 Ermin Garcia St.,
Cubao, Quezon City
Tel. No.: (02) 912-2946 / 955-0734
Fax Nos.: (02) 912-1966
Cebu Branch
Fax: (032) 254-0473
2. We Will review your application.
3. You will be invited to discuss franchise details.
4. Your proposed location will be examined.
5. The Franchise Agreement will be executed.
6. Outlet set-up and staff training will commence.
7. We will provide pre-opening and marketing assistance.
8. Congratulations!! Your Grand Opening!
Contact Details of El Bonito's Pizza:
RK FRANCHISE CONSULTANCY, INC.
G/F Minnesota Mansion, 267 Ermin Garcia St.,
Cubao, Quezon City, Philippines
Tel: (02) 912-2946 / 912-2973
Fax: (02) 911-1966
Cebu Branch:
Tel: (032) 253-5010
Fax: (032) 254-0473
Email: rk@rkfranchise.com;
rkfranchiseconsultancy@yahoo.com