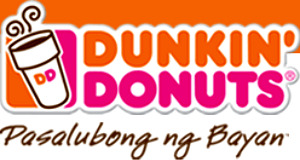 Dunkin' Donuts  was first opened in 1950 in Quincy, Massachusetts by Bill Rosenberg.  After 5 years, Dunkin' Donuts licensed the first of its many franchisees.
Since then, Dunkin' Donuts has been America's favorite everyday, all-day stop for donut, coffee and baked goods.  It is a market leader in the regular/decaf coffee, iced coffee, hot flavored coffee, donut, bagels and muffin categories, and the largest coffee, donut and baked goods chain in the world.  Dunkin' Donuts has earned the No. 1 ranking for customer loyalty in the coffee category by Brand Keys for three years running.  The company has more than stores/restaurants in 31 countries worldwide.
Being the world's largest donut , coffee and baked goods chain, Dunkin' Donuts serves more than 3 million customers per day.  With over 50 varieties of donuts and more than a dozen coffee beverages as well as an array of bagels, breakfast sandwiches and other baked goods to choose from.   Some of the favorites are bavarian filled, strawberry filled, boston kreme and choco filled donuts; bavarian, choco and strawberry munchkins; muffins, bunwiches and croissants; original brewed coffee, iced coffee and icy coolers.
By being true to the founder's philosophy, Dunkin' Donuts maintains its commitment to deliver quality products, efficient and friendly service and cleanliness in food preparation and surroundings.
With that, people have grown to love Dunkin' Donuts. The love for the brand has created a need for Dunkin' Donuts to expand in more areas. With the help of franchisees, more and more customers will be able to enjoy great donuts, coffee and baked goods – only from Dunkin' Donuts.
How to Franchise Dunkin' Donuts:
The Ideal Dunkin' Donuts Candidate
Dunkin' Donuts® candidates must meet the following qualifications to be considered for a franchise opportunity:
Nurtures a passion for, and dedication to, operational excellence
Maintains adequate resources and capitalization to purchase a development opportunity for one or more Dunkin' Donuts outlets.
        Multi – unit development minimums vary by area market demographics.
Cultivates an understanding and a drive for local store marketing, community involvement and development.
Possesses a clear understanding of the real estate development process -particularly as it relates to local markets
Has prior management level experience in food service and/or restaurant operations (Other relevant experience will be considered)
Demonstrates the ability to build a high performing team and organization
Areas open for Territorial Franchise:
Boracay / Caticlan
Isabela
Oriental Mindoro
Masbate
Nueva Vizcaya
Also, YOU can now become a Dealer of our ever growing Dunkin' Donuts Family, exclusively in Pampanga and selected areas in Tarlac province.
Kindly send your Letter of Intent (LOI) with the following information and attachments:
Preferred area / location
Photos of the proposed sites within the area
Area Details
Vicinity Map
Applicant's contact details.
INVESTMENT STARTS AT Php200,000.00
As a Dunkin' Donuts franchisee, you will be supported by the donut experts, not only with the delivery of quality products but also with operations. Your investment is sure to be sweet and sound with all the support services you will get from Golden Donuts Incorporated:
1. Comprehensive Training Program
Production Training
Store Operations Training
Local Store Marketing Training
Accounting Training: Profitability Management and Systems Management
2.  Quality Assurance Assistance
3.  Site Selection and Development Assistance
4.  Marketing and Promotional Support
Aggressive National and Local Marketing Efforts
New Products
Grand Opening Assistance
5.  Continuing Guidance from Consultants
Requirements for processing of application:
Letter of Intent (LOI) – With applicant's complete contact details and address of site
Vicinity/Site Map
Photos of Site
Contact Details of Dunkin' Donuts:
Golden Donuts, Inc.
Business Development Division
Tel: (02) 988-7333 / (02) 988-7300 loc. 251 / 286 / 287
Email: bdd@dunkindonuts.ph / bdd.dpd@dunkindonuts.ph
Website: http://www.dunkindonuts.ph (This link will open on a new window)