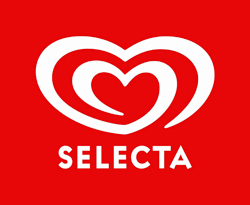 Selecta's humble beginnings can be traced to the Arce family's ice cream parlor in Manila in 1948.  Its ice cream was well-known for its creaminess, authentic flavours, and unique gold can packaging qualities that remained throughout the years.
In 1990, RFM Corporation bought Selecta from the Arce family to form Selecta Dairy Products, Inc. Known for its sharp entrepreneurship, RFM catapulted the rise of Selecta as a serious contender in the ice cream market — always ahead in product innovations by creating new and exciting flavours like Cookies and Cream, Halo Halo, Ube Macapuno, and Chocolate Almond Fudge, and supported by heart-warming media campaigns that depict Selecta as an ice cream that creates family bonding moments. In 1997, Selecta became the market leader in the Philippine capital, which accounted for 60% of the nation's ice cream consumption.
Entrepreneur-minded Filipinos who are looking for a business opportunity can look at Selecta business opportunity. Selecta can build their partner's business and future. The Selecta Ice Cream Stock Point Partnership could earn as much as P240,000 per year for its business partners.
Selecta Ice Cream Business Opportunity
Interested individuals can apply for a Selecta Ice Cream Stock Point Partnership in the following areas: Manila, Lower Bulacan, Lower Laguna and Cavite.
Selecta are looking for entrepreneur-minded individuals with the following qualities:
Entrepreneurial skills, dedication and the right attitude
Willing to run and manager their own business personally
Have an available space of 10-15 square meters in their location
Resident of the area and owns the property
Sprinkle Fun On Top of Your Business
At Selecta, they've made a business of making pleasure within reach. They would like to share this opportunity with you.  Join Selecta in this business of spreading fun. They offer:
Innovative, affordable, relevant, fund and exciting product lines.
Generous operating margins that will surely give a fair return of your investments.
Reliable logistics & customer service team to ensure fast, accurate & timely replenishment.
They will provide you with steadfast and modern refrigeration equipment.
Stimulating & attractive Point of Sale (POS) materials.
World class training & technical supervision.
Contact Details of Selecta Ice Cream:
The Mobiling Group, Uniliver RFM Ice Cream Inc.
Manggahan Light Industrial Park
A. Rodriguez Avenue, Bo. Manggahan
Pasig City 1611, Philippines
Hotline: (02) 646-2324 and look for Ms. Cynthia Tibayan
Email: red.mobiler@unilever.com
Website: Click this link to view Selecta web page. (This link will open on a new window)
PLDT Toll Free: 1-800-1-8888888
Globe Toll Free: 1-800-9-SELECTA
Hotel & Restaurants: 0917-8677601
Northern NCR: 0917-8678302
Southern NCR: 0917-8677604