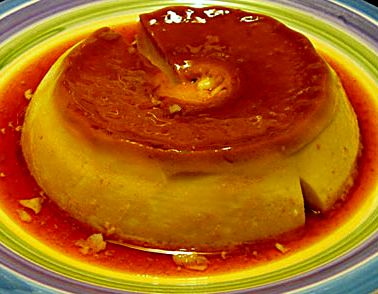 Crème caramel or caramel custard, popularly known as Leche Flan in the Philippines.  It is a rich custard dessert with a layer of soft caramel on top. Crème caramel is a variant of plain custard (crème) where some sugar syrup, cooked to caramel stage, is poured into the mold before adding the custard base. It is usually cooked in a bain-marie on a stove top or in the oven. It is turned out like crème renversée and served with the caramel sauce on top.
In the Philippines,  Leche Flan—literally milk flan—a heavier version of the Spanish flan made with more egg yolks.  Leche Flan is usually steamed over an open flame or stove top, although rarely it can also be seen baked.  Leche Flan is a staple Filipino dessert in all celebratory feasts.
In this recipe, Squash was added to make a new variation of Leche Flan, which is  much delicious and at the same time nutritious.   It is a good business to start in your home with low capital investment.
How to make Squash Leche Flan
Materials Needed:
For every cup of mashed kalabasa.
1 cup condensed milk
1 egg
1/4 tsp. vanilla
2 heaping teaspoon brown sugar to be caramelized
Procedure:
Peel the squash or kalabasa and boil for 20 minutes.
Mash thoroughly using a fork.
Combine the mashed mixture, milk and vanilla.
Caramelize the brown sugar and line the pan mold.
Pour the mixture into the lined pan mold and cover with aluminum foil or plastic.
Steam in hot water (double boiler) for 25 minutes or until done.
Source: DOST; Photo: kenhoytstyle.com