Petron Philippines recently introduced their latest dealership program, the Petron Micro-Filling or Bulilit Station. It is an easy-to-build gasoline station that can start with two-to-three product pumps. It is a more financially viable alternative yet equally sustainable business for micro-entrepreneurs.
The bulilit service station business is a retail operation. It includes buying, storing, and reselling Petron's premium petroleum products such as fuels, lubricants, LPG, and other specialty products, as well as providing quality services to its customers all the time, every time.
Customer satisfaction is another part of the business. We are interested to partner with individuals who are not just passionate and hard working, but are also friendly and service-oriented.
The Selection Process
Dealers are "Petron" to the public. This is why we take great care in selecting our dealers, whom we consider as partners in providing our customers with premium products and quality services.
To give you an overview, below is our selection process for potential dealers of dealer-owned and micro-filling service stations:
1.  Screening:
If you own or lease a lot that you think is fit for a Petron service station, you already have one requirement off the list.
The first step is to fill out our Dealer Application Form.
Next is to write a letter of intent and submit it together with other documents.
When all your documents are complete, submit your application to our offices.
Upon receipt, we will review your documents and assess your proposed site.
We will advise you of your application status as soon as possible.
Tip: Remember to ensure that your documents are complete.
2.  Training:
When you pass our screening process, we will share with you the good news immediately.
We will endorse you for enrollment in a four-week Petron Dealer Management Course (DMC) to give you a deeper understanding of the business and a more comprehensive training. We conduct the DMC in the San Miguel Corp. Head Office Complex located in Mandaluyong City.
Even after you graduate from DMC, we will continue to guide you in running your Petron service station. On your first few days of business, expect us to visit and hold hands-on training with you and your personnel to ensure your station's seamless operations.
3.  Project Implementation:
Prior to construction, we will discuss and present the blueprint of your service station. Details such as design, specifications, and materials; attainment/submission of necessary permits required by national and local government units; and finances will be discussed during this time.
We are your partner in building your very own Petron service station. Trust that you can rely on us from the application to the operation of your business.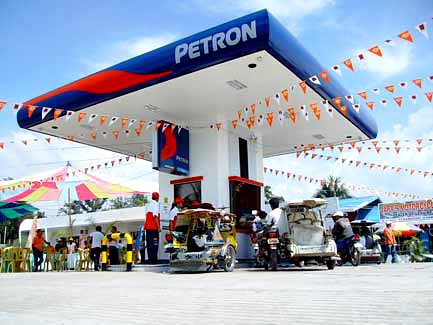 Download your Dealership Application Form here.
We welcome you to send your Dealership Application Form together with the following requirements:
Letter of Intent (include complete name, home/office address, contact information, and address of proposed lot)
Lot Plan
Vicinity Map
Transfer Certificate of Title (TCT)
For Luzon Applicants:
Network Expansion-Reseller Trade
Ground Floor, San Miguel Corp. Head Office Complex,
40 San Miguel Avenue, Mandaluyong City 1150
Tel: (02) 884-9251
Fax: (02) 884-0950 or (02) 884-0940
Email: bulilitstation@petron.com
For Visayas-Mindanao Applicants:
Network Expansion-Reseller Trade
Petron Mandaue Terminal, Looc, Mandaue City
Tel: (032) 344-7341 to 44 loc. 50158
Fax: (032) 345-5616
Email: bulilitstation@petron.com
Note: Please be advised that we will only review applications with complete requirements.