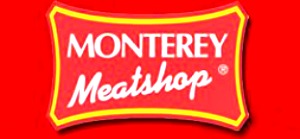 Monterey Foods Corporation (formerly Monterey Farms Corporation) began in 1969 with one 1,200-hectare cattle ranch in Isabela. In 1980, it became a subsidiary of San Miguel Corporation, the Philippines' largest food, beverage, and packaging conglomerate.
Today, it is the country's largest hog and cattle operation, with the latest technology in feed milling, breeding, livestock raising, slaughtering, meat retailing, and meat processing. Monterey meat have gone through an advanced blast-chilling process right after slaughter so bacterial growth is neutralized and freshness and nutrition is locked in.
Monterey's commitment to total quality extends from its farm to its countrywide distribution network. Its quality meat products are delivered by refrigerated Monterey trucks and are available in a variety of Monterey outlets, namely Monterey Neighborhood Meatshops, supermarkets, and Monterey satellite outlets.
Monterey meat products are part of everyday Filipino life. With its "farm to market" concept, the Filipino consumer is assured of quality meats for every meal.
Franchising for Monterey started in 1990 with only 4 meatshops. Due to the continuing patronage of many Filipino consumers, this number has increased significantly over the years. Today, Monterey's franchised meatshops are found nationwide, distributing Monterey quality meats to Filipinos from Luzon to Mindanao.
Monterey Neighborhood Meatshops are stand-alone outlets that exclusively sell a wide range of Monterey pork and beef cuts, as well as Monterey Ready-to-Cook Meats, Magnolia Chicken, Purefoods hotdogs and other selected San Miguel products. Each Monterey Meatshop boasts of modern meat fabrication equipment and display showcase. It is manned by a crew of butchers and merchandisers trained in the Monterey Meat School-to assure customers of courteous and efficient service.
Monterey will continue to expand its franchise network, true to its commitment of providing Filipino families with world-class meat products. We invite you to be part of this commitment and growth. Invest in a Monterey Meatshop and be a part of our growing family of franchisees.
How to Franchise Monterey Meatshop:
Estimated Initial Investment: Approximately P1.2 to 3 Million, depending on the size of the meat shop
Franchise Fee = Php336,000.00
Construction = Php800,000.00
Equipment & Supplies = Php1,900,000.00
Merchandising Materials = Php20,000.00
Meat Inventory= variable
Royalty Fee = 2% of monthly purchase
Advertising Fee = 1% of monthly purchase
Monterey Meatshops Have To Offer:
1. Products
Monterey fresh pork and beef products
Monterey Ready-to-Cook Meats
Magnolia Chicken Station Products
Magnolia Brown Eggs
Magnolia Milk, Butter, Cheese & Cooking Oil
Purefoods selected cold cuts and canned goods
other selected San Miguel products
2. Support Services
Store design
Monterey Signages
Training of franchisee and crew
Operations support
Marketing Support
Area Requirement
For Stand Alone Neighborhood Meat Plus,minimum floor space of 30 square meters with a frontage of at least 5 meters.
For Wet Market areas, approximately, 24-40 square meters with a frontage of at least 4 meters.
Procedure
For interested franchisees, submit a letter of intent to San Miguel Foods Inc. Kindly include the area/location you are interested in. For site owners who are interested to have their commercial space leased, submit a proposal with the complete address and sketch of the exact location of the proposed site.
Interested franchisee will accomplish & submit the application form for evaluation and screening.
The site will undergo trade area survey and computation of site potential , and is subject for approval by Monterey Management.
Applicant makes a presentation of the business plan to our Franchisee Selection Panel as part of the screening process.
Sign the Franchise Agreement upon approval of application
Plan & implement activities for development
Attend the training (Monterey Meatshop School).
Organize Branch Opening
Contact Details of Monterey Meatshop:
BUSINESS DEVELOPMENT
San Miguel Foods, Inc.
17F JMT Corporate Condominium
ADB Avenue, Ortigas Center,
Pasig City, Philippines
Trunklines: (02) 702-5000
Telephone Number: 702-5386 / (02) 702-5569
Fax Number: (632) 637-3784
Website: http://www.monterey.com.ph (This link will open on a new window)