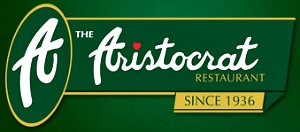 The Aristocrat Restaurant is a Filipino-owned family corporation founded by the late Doña Engracia ("Aling Asiang") Cruz-Reyes and her husband, Justice Alex A. Reyes. Aling Asiang's pioneering spirit coupled with her native genius for cooking Filipino food raised the once lowly and unknown Filipino dishes to well-loved and accepted locally and internationally. From its humble beginning as a snack mobile in 1936, the Aristocrat has grown into a restaurant enterprise with branches in Metro Manila, all serving the same quality foods that have made it "The Philippines' Most Popular Restaurant".
Strategically located along Roxas Boulevard, the first Aristocrat was a silent eyewitness to the passing of Philippine history — from the Presidential inaugural parades and somber funeral marches of national martyrs and prisoners of war (World War II), to religious rallies of various denominations and frivolous parades of film festivals and beauty queens. Aristocrat has inspired the growth and development of the restaurant industry in the Philippines, oftentimes taking the lead and being the basis of many other food establishments. Engracia Cruz Reyes' contribution to Philippine cuisine has earned her national recognition. In 1992, on her 100th birth anniversary, the erection of a landmark in a Rajah Sulaiman park, the issuance of a stamp edition and the naming of a street after her honor.
The Aristocrat has diversified into an integrated complex, which includes the following: the Aristocrat Bakeshop (Bakerey, Inc.); Aristomart, a 24-hour convenience store (Aristore, Inc.); property management such as the Aristocrat Apartments (Tanglaw Realty, Inc.); the Franchise Office (Heirs of Alex & Engracia Reyes, Sr., Inc.); the Aristocrat Robinsons, Ermita Branch (Legacy of Alex & Asiang, Inc.); the Aristocrat Franchise Corporation (Aristocrat Franchise, Inc.) and a Product Research & Development Division which manufactures processed foods such as sausages, cured meats, bagoong, atsara, and a variety of other products for the local and exports markets.
Aristocrat Restaurant is in the preliminary stages of an expansion program. The company's goal is to strengthen the franchising system and to increase the number of franchise outlets within Greater Manila Area only.
How to Franchise The Aristocrat Restaurant:
The ARISTOCRAT FRANCHISE CORPORATION offers INDIVIDUAL AND MULTI-STORE Franchise units for the development and operations of THE ARISTOCRAT RESTAURANT and THE ARISTOCRAT BAKESHOP.
Franchise Fee: Call
The Aristocrat Restaurant Franchise Inclusive of:
Intensive and comprehensive training program.
A copy of the Operations Manual and complete business opening assistance.
Continued use of the ARISTOCRAT RESTAURANT name and trademarks.
Access to operating systems.
Marketing assistance.
Ongoing business development.
Consulting and other benefits that come with being a part of THE ARISTOCRAT RESTAURANT organization.
Total investment depending on:
Type of store –  mall, strip mall, free standing
Size of store
Franchise Term:  Five (5) years, renewable twice for a total of fifteen (15) years
Required Space:  must be at least 250 square meters for mall stores, 250-300 square meters for strip malls and 300-500 square meters for free standing stores with provision for parking space.
Contact Details of The Aristocrat Restaurant:
ARISTOCRAT FRANCHISE CORPORATION
432 San Andres St. cor. Roxas Blvd.,
Malate, Manila, Philippines
Tel: (02) 524-7671 to 80 local 247
Contact Person: Mr. Paul Encabo
Email: franchising@aristocrat.com.ph
Website: http://www.aristocrat.com.ph (This link will open on a new window)