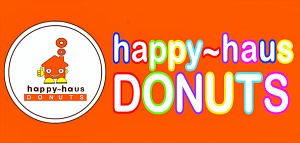 Happy-Haus Donuts is a franchising business developed by Happy-Haus Food Corporation, giving not only quality products at affordable price but also formulating a superb business opportunity to Filipino families.  The company was established in 2005 by seasoned individuals in the donut industry.  The company's aim is to create quality donut products at affordable prices.
The company believes that luscious mouth watering donuts should be available to all Filipino families and not just to those who can afford expensively priced donuts.  At happy-haus Donuts, total quality is assured through ingredients and equipments sourced both from the United States and locally following strict quality control standards.
How to Franchise Happy-Haus Donuts:
KIOSK TYPES  –  The company offers different sizes of Kiosks to suit the franchisee's needs.
Table Top ( 2.5 ft. depth x 2.5 ft. width x 2.5 ft. height )
Slim ( 2.5 ft. depth x 3.3 ft. width x 7 ft. height )
Standee ( 2.5 ft. depth x 2.5 ft. width x 6 ft. height )
Total Investment :   Php35,000.00 (All-in)
Package Breakdown:
Php10,000.00  –  Franchise Fee
Php10,000.00  –  Security Deposit (Refundable)
Php15,000.00  –  Miscellaneous Fee
Franchise Inclusions:
Hapy Haus Kiosk / Showcase
Donut Cabinet
Signage
Showcase Cover
Crew Uniform ( 5 Polo Shirts)
Orientation / Seminar of Franchisee
Orientation / Seminar of Crew
Opening Paraphernalia
Opening / Marketing Support
Requirements:
Letter of Intent
Detailed Resume/Biodata (with at least three (3) character references)
Sketch of the Proposed Location
Pictures of the Proposed Location
Non-Refundable Initial Fee: Php2,000.00 (Processing Fee for Site Evaluation)
2 Valid I.D.
Contact Details of Happy-Haus Donuts:
Happy-Haus Food Corporation
1104 11/F West Trade Center
132 West Avenue, Quezon City
Metro Manila, Philippines
Tel: (632) 376-6393, (632) 414-4491
Telefax: (632) 410-9084
Email: happyhaus_BDD@yahoo.com.ph
Website: http://www.happyhausdonut.com (This link will open on a new window)