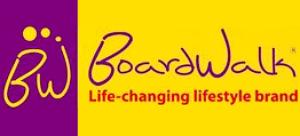 Boardwalk Business Ventures, Inc. is a direct selling company with over 20 years of experience in the business.
The company carries an extensive collection of affordable and trendsetting fashion pieces that are truly stylish and world-class. From casual to corporate clothes, underwear, jeans, shoes, bags, wallets, and fashionable timepieces for children, teens, and adults, Boardwalk has everything for everyone as the company continues to set new trends in the fashion industry.
Led by its stalwarts, President Bernardo H. Madera and Vice President Imelda P. Madera, Boardwalk has become a force in the industry, becoming the measuring stick by which many others compare themselves to. To date, the direct selling business has over 1 million dealers, each and every one of them had their lives improved as Boardwalk remains ready and willing to provide every Filipino with the level of prosperity and abundance they can all look forward to.
With over 50 full-blown branches and Branch Satellite Offices strategically positioned in key cities all over the country, the company continues to be steadfast in its pursuit to bring the Boardwalk brand to new heights.
Awarded as the best direct sales company and one of the most outstanding organizations in the country, Boardwalk Business Ventures, Inc. is in the business of empowering people first as it takes pride in uplifting the lives of every Filipino with a brand that they can be proud of and call their own.
The company remains committed to dress millions of Filipinos around the world with the confidence needed towards the future. With Boardwalk Business Ventures, Inc., empowering people and bringing out the best that they can be is their top priority. Indeed, over the last 20 years, Boardwalk has created a world-class brand made by the Filipino, for the Filipino.
BOARDWALK – DIRECT SELLING
What is Boardwalk Personal Shopper?
Boardwalk Personal Shoppers are well-trained members to give advice on the fashion and lifestyle needs of the customer, recommending the best suitable Boardwalk products available.
By doing so, not only are they helping out customers in knowing and having the best products they deserve, they also earn for their families through Boardwalk's tried-and-tested business model.
Who can be a Boardwalk Personal Shopper?
Anyone who is 18 years old and above who wishes to earn additional income can join Boardwalk. Employees, students, proprietors, institutions, group and even unemployed individuals can register.
Joint account such as the following are also welcome to join:
Couple – husband and wife
Mother/Father and Daughter/Son
What are the benefits and privileges of a Personal Shopper?
As a Boardwalk Personal Shopper, you are on your way to getting things you deserve!
Take advantage of:
25% basic discount on all Boardwalk products
Rebates
Free entrepreneurial trainings
Exclusive invitations to Boardwalk events
5. Career opportunities
6. Recognition programs and a lot more!
What support does Boardwalk provide to its Personal Shoppers?
Boardwalk provides the following support:
Trainings and workshops
Recruitment activities
Fliers and registration forms
How can I earn with Boardwalk?
There are 3 ways to earn:
1. First is DIRECT SELLING where you sell products directly to your customers. The 25% discount given to you upon order will become your earnings.
2. Second is NETWORKING. You have to recruit more members who will become your Downlines. You can get rebates from the sales of your downlines. The more downlines you have, the greater earnings you can get.
3. Third is the combination of DIRECT SELLING & NETWORKING. You will enjoy the 25% earnings plus rebates and incentives from the total sales of your group.
How much will I earn?
You will earn the 25% discount on all items.
Example:
Gross Price (Catalog Price) = Php 300.00
25% discount is Php 75.00
The Php 75.00 will be your earnings.
REGISTRATION
I want to be a Personal Shopper, how and what are the requirements?
You may register at the nearest Boardwalk branch / outlet and bring the ff. requirements:
Requirements include:
1. 1 2×2 ID picture (white background)
2. 1 valid ID (with photocopy)
3. Proof of billing (at least 3 months , with photocopy)
– If Proof of billing is under the name of parents, attached a photocopy of birth certificate.
– If Proof of billing is under the name of spouse, attached a photocopy of marriage contract.
– If renting, Barangay Clearance can be provided; please indicate "General purpose" or "Boardwalk requirement".
Where is the nearest Boardwalk branch in my place?
You may check the list of branches on our BRANCH LOCATOR Here.
What is a Sponsor? Why do I need to have one?
A sponsor is also a Personal Shopper who will assist you in your transactions and will help you grow your business with Boardwalk. She/He is a experienced Personal Shopper who can become a team leader of her own group.
You can also become a Sponsor, create your group and offer assistance to new Personal Shoppers.
How can I get a Sponsor?
The following are some ways on how to have a sponsor:
When a Boardwalk Personal Shopper referred you, gave a flyer or invitation, she/he can be your sponsor.
If you're a walk-in applicant, the Group Manager Officer (also a Personal Shopper) on duty on the day you visited a certain branch will become your sponsor.
If you know a Boardwalk Personal Shopper (can be a friend, neighbor, colleague, etc.), you can choose her/him as your sponsor.
Contact Details of BoardWalk:
Boardwalk Business Ventures, Inc.
Units 1508-1509 West Tower
Exchange Road, Ortigas Center
Pasig City, Philippines
Tel: (632) 631-9999
or (632) 636-6321 to 23 Local 113 & 307
Email: customercare@boardwalk.com.ph
Website: http://www.boardwalk.com.ph (This link will open on a new window)