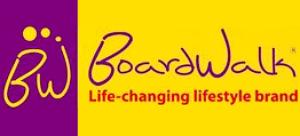 Boardwalk Business Ventures, Inc. is a direct selling company with over 20 years of experience in the business.
The company carries an extensive collection of affordable and trendsetting fashion pieces that are truly stylish and world-class. From casual to corporate clothes, underwear, jeans, shoes, bags, wallets, and fashionable timepieces for children, teens, and adults, Boardwalk has everything for everyone as the company continues to set new trends in the fashion industry.
Led by its stalwarts, President Bernardo H. Madera and Vice President Imelda P. Madera, Boardwalk has become a force in the industry, becoming the measuring stick by which many others compare themselves to. To date, the direct selling business has over 1 million dealers, each and every one of them had their lives improved as Boardwalk remains ready and willing to provide every Filipino with the level of prosperity and abundance they can all look forward to.
With over 50 full-blown branches and Branch Satellite Offices strategically positioned in key cities all over the country, the company continues to be steadfast in its pursuit to bring the Boardwalk brand to new heights.
Awarded as the best direct sales company and one of the most outstanding organizations in the country, Boardwalk Business Ventures, Inc. is in the business of empowering people first as it takes pride in uplifting the lives of every Filipino with a brand that they can be proud of and call their own.
The company remains committed to dress millions of Filipinos around the world with the confidence needed towards the future. With Boardwalk Business Ventures, Inc., empowering people and bringing out the best that they can be is their top priority. Indeed, over the last 20 years, Boardwalk has created a world-class brand made by the Filipino, for the Filipino.
DIRECT SELLING BUSINESS
At Boardwalk, we provide you a direct selling business opportunity to  earn extra income.  Get 25 % lifetime discounts  through our boardwalk direct sales program. You can sell all the products right from the catalog & brochures then straight to the very homes of your customers.
Direct Selling Business Benefits
Lifetime Membership
Lifetime Discounts
Career Development
Exciting Promotions
No Downgrading or Demotion
You can also earn simply by sharing the same opportunity to others and you get paid through  commissions and bonuses from your efforts.  This business opportunity offers an open ended professional solution free of all employment hassles. Advance to the level you choose at your own pace.
How to Become a Dealer
Start your career with us today and take pleasure from unlimited opportunities through a tried-and-tested business model. Enjoy – 25% Basic Discount, Lifetime Membership, Special Credit Program, Performance Recognition for Top Performing Dealers, Special Trainings and a lot more!
1.  Select a sponsor. If you do not know any existing member, we can assign a sponsor residing nearest to you.
2.  Prepare the requirements:
Photocopy of valid ID
2×2 ID picture
Proof of Billing
You have three (3) options to process your registration.
1.  Visit a Boardwalk branch nearest you and apply for dealership.
2.  Submit your requirements through our e-mail at customercare@boardwalk.com.ph
3.  Submit Online Registration Form HERE
Attend a BOS (Business Orientation Seminar). BOS is conducted daily in BW branches. For interested customers near the Ortigas Business area, BOS is conducted every Monday, 10AM-12NN at the 15th Flr, 1508 West Tower, Philippine Stock Exchange Center. Customers who submit requirements online will receive an email response about the available dealership programs within five (5) days.
Global Dealership
If you are interested in becoming a dealer but you're living outside the Philippines, you will also have the opportunity to join the fastest growing direct selling company in the country.
Global dealership may differ depending on the territory and country. So, to give you a more informative and suited response, please fill out the form below and we will send you an e-mail within five (5) days.
CONTACT INFORMATION:
Boardwalk Business Ventures, Inc.
Units 1508-1509 West Tower
Exchange Road, Ortigas Center
Pasig City, Philippines
Tel: (632) 631-9999 , (632) 636-6321 to 23
Fax: (632) 635-2746
Email: customercare@boardwalk.com.ph
Website: www.boardwalk.com.ph