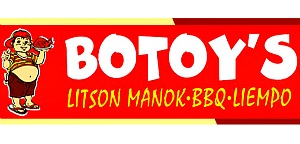 BOTOY'S started from a humble beginnings in the year 2000 as a take-out kiosk selling mouth-watering litson manok and crunchy liempo by its founder, Engr. Cesar B. Alba, located at Zone 3, Bulua Highway in Cagayan de Oro City.
Through sheer hard work and dedication to give utmost customer satisfaction. BOTOY'S eventually grew to what it is today, a very popular name in the local litson manok, bbq and liempo industry.
In 2005, BOTOY'S opened its doors to interested investors in the lucrative field of franchising and hired RK Franchise Consultancy to do the Franchise Development. A would-be investor is somehow assured of a sure-fire returns of his investment in just a short span of time owning to the fact that the business already gained wide acceptable in the consumer market.
In November of 2008, BOTOY'S Litson Manok, BBQ and Liempo changed its ownership from single proprietorship to that of a corporation and was registered MCALBA FOODS CORPORATION. The Entrepreneur (Phils) Magazine, the country's premier business review magazine, awarded BOTOY'S with numerous awards in 2009, 2011 and in July 2013, it again awarded BOTOY'S as this year's Outstanding Franchise Company.
As of September 2013, the company already has a number of company-owned and franchisees-owned kiosk and fast-food outlets nationwide. It is continuously accepting franchise applications from all over the country, confident that the processed stocks coming from its own commissary at Canitoan, Cagayan de Oro City meet the good manufacturing and sanitation standards set by the NMIS (National Meat Inspection Service) with the granting of a "AA" Plant Accreditation #MPP-345 and GMP Cert. #13345-231, in compliance with the requirements of RA#9296 or the Meat Inspection Code of the Philippines, and EO#137. The company is also on its way to achieve HACCP Certification to become a world-class meat processing and food company.
How to Franchise BOTOY'S:
Complete Single Store Franchise Package
Newly constructed/renovated store of up to 15 sq. mtrs. Floor area with:
1 Set Charcoal Type Griller
12 pcs. Skewers for Liempo and Chicken
2 pcs. Bangus Grill Casing
13 Cu. Ft. Chest type freezer
1 unit stainless chopping table with Chopping board & knife
1 single face and 1 double face signage's
1 unit Food display Humidifier/warmer
Php25,00.00 worth of Supplies
Initial Franchise Grant of five (5) years
Proprietary Marks, use of Franchise Name
Brand Name and Logo
Site evaluation and assistance
Inclusive processing and fees of Government permits (DTI, BIR, and Mayors permit)
Add-on Fees for out of town identified areas
Grand Opening and Marketing Support
30 pcs. 2×3 Bangus Tarps (ads)
30 pcs. 2×3 Freebies Tarps
30 pcs. 2×3 Soon to Open Tarps
50 pcs. Free Small Sizes Chicken for Freebies
100 pcs. BBQ Free for Freebies
10 pcs. 3×5 Now Open Tarp
2 reams of Flyers
Mascot and Sound System
Motorcade Assistance
2 Sets Staff Uniform
Training and Orientations for Franchisee and Staffs
Plant tour and Exposure
Basic Operations Training
Good Manufacturing Practices Training
Sanitation and Hygiene
Customer Service
Accounting and Auditing
NO Royalty fees: For products supplied by Commissary 1% Advertisement Fee based on the Gross monthly commissary purchase.
Franchise Procedures
First Step – Franchise Applicant
Has distinguished a site and started negotiating in putting up a BOTOYS branch
Draft a letter signifying intentions of becoming a BOTOYS franchisee together with a vicinity map of?proposed site
Completely filled-up Botoy's Franchise Information Sheet
Fax or Mail the documents to:
The Business Development Department
MCALBA FOODS CORPORATION
Zone 3, Bulua Highway Cagayan de Oro City
Telefax: (632) 822-6483, Tel: (632) 824-7014
Email: franchise@botoyslechon.com
Second Step – Botoys Business Development
Meets with Franchise Application for Preliminary Interview. If favorable, gives the applicant the ff:
Franchise Qualification form and Secure reservation fee of 15% base on selected package price
Reservation fee is transferable to other location for the period of 2 months, deduction to the franchise fee but it is no longer refundable
Market Study
Franchise Suitability Test
Third Step – Applicant
Send vicinity map of site
Conduct market study
Submit market study
Final Step – Botoys
Review Qualification form
Conduct own Market Study (validation)
If completely done full payment shall be made
Meets up with Franchise Applicant for FA signing, and discuss the rest of the procedures
Contact Details of BOTOY'S:
BOTOY'S LITSON MANOK, BBQ & LIEMPO
Zone 3, Bulua Highway,
Cagayan de Oro City, Philippines
Contact Person: Anna Madelaine E. Salcedo
Tel: (088) 858-9191
Mobile: (0917)574-6779; (0923)225-2489; (0927)733-8244
Email: franchise@botoyslechon.com / annasalcedo@botoyslechon.com
Website: http://www.botoyslechon.com (This link will open on a new window)
Metro Manila Office:
#22 Michael Rua St., Better Living Subd.,
Parañaque City, Philippines
Contact Person: Analie "Ian" Alba-Caguite
Tel: (08822) 738-779; (088) 858-9191
Mobile: (0917)718-9512, (0917)718-9513
Email: analiecaguite@botoyslechon.com